Blend # 21
I decided to try something new with this blend. I was digging through all of the remnants of beans I have, trying do decide what I could do with them. Some of these are starting to get a bit old and need used up. Unfortunately, there was a reason they were getting old.
This blend consists of 50% Brazil Poco Fundo, 20% Nicaragua Matagulpa, 20% Kenya AA Lot 220 Karatina and 10% Yemen. Now I have tried a blend that was similar. My notes on that blend red 'ok, but nothing special'. It seams that most of my blends have that note beside them. Then there is the occasional, 'winner!!'. Well, this is not one of the winners.
I decided to pre roast blend these, as most will roast relatively even. In the hopper the blend looks darker than it is. The darkest is full city, and the rest is city+. Mostly dry with an occasional oil spot. It has had 4 days to rest.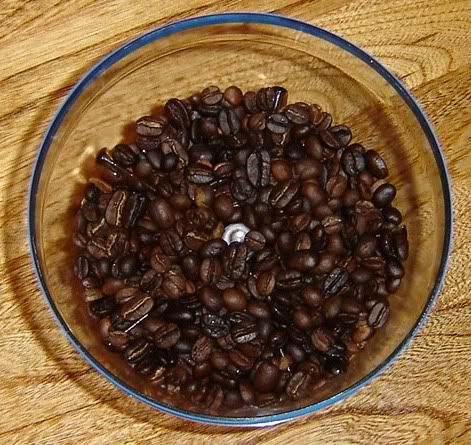 After a couple of test shots to dial the grinder in, I had my grind/timing just right. I popped in the bottomless portafilter, got out the camera and pulled a beautiful looking shot. Unfortunately, this shot looked much better than it tasted.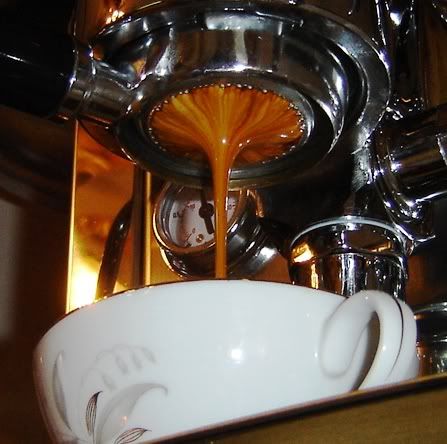 Now I have used a Brazil/Kenya based blend before and it was not too bad. I believe the Nicaraguan blew the blend. I can not quite put the taste to words. It has a dirty earth flavor that I do not like. Not like a good Sumatran earthy, more like 'there is dirt in my portafilter'. There is no one dominate flavor or harmony in the cup. It is more of a train wreck. I will give it another couple of days to see what develops. Unfortunately, I believe most of this will be going down the drain and in the trash.