Blend #22 Day One
Well, this one definitely turned out better than blend 21. Most of that one went down the drain or in the trash.
This blend contains 50% Brazil Cerrado Carlos Piccin, 30% Ethiopian Harrar Oromia and 20% Yemen. I find that the Harrar needs a darker roast in espresso. While it has plenty of fruit and spice, to unlock the blueberry notes you have to take it to full city+. I post blend this in two parts. One roast for just the Harrar, a second roast for the Brazil and Yemen.
I broke the top rule for home roasting. I left the roaster unattended for just a moment, and the second roast got away from me a bit. The wife shouted out for my assistance. Thinking something was wrong, I left the roast, ran in the house and went upstairs. Then I find out she needed something carried downstairs, owe bother. So I quickly carried it down and returned to my roast. To my surprise, it was in a rolling second crack. By the time I dumped the roast and cooled it, it had also roasted to full city +, drag. Being to cheep to dump it, I decided to go ahead and give it a try. After all, some of sciences greatest discoveries were accidents.
Well, here is the blend in the hopper. Most of the beans are a solid full city/full city+. This has had 3 days to rest. Some small oil spots are appearing but 90% of the beans are dry.

The first shot was the goopiest I have ever gotten from any of my roasts. It was thick and viscous, dropping in the cup in a stream of globs. I stood there drooling as I watched it in anticipation. It was not to bad. There was a hint of carbon in the extraction but not as much as I had feared. The Yemen funk factor was muted, I was getting more chocolate than the typical Yemen roast. Quite a bit of fruit and berry in there as well.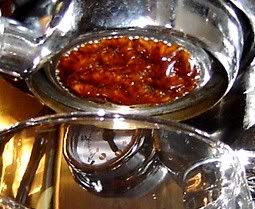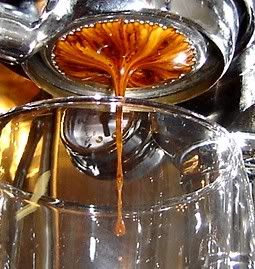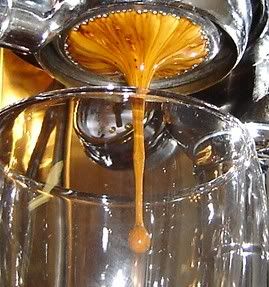 The Brazil I used was not my normal variety. This one has a little lighter body and made a noticeable change in the flavor profile. Much lighter and more fruit. The shot looked awesome in the cup. It had a very thick and persistent crema with an enormous amount of tiger flake; the photo does not do it justice.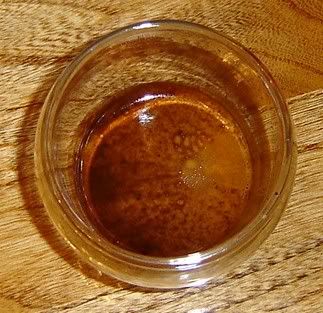 My initial thoughts, little over roasted, plenty of fruit, light body, good mouth feel, more acidity than I was expecting and VERY strong aromatics. It fills the house and lingers for hours, a definite wow.