Isomac Modifications, Part Three, Pressure Gauge
Now the hard part starts. I have my Isomac Millennium disassembled; the new preheat heat exchanger line run. Now I have to cut a 1.5 inch hole into a hunk of 18 gauge stainless steel.
I decided to change my gauge placement. The brew pressure gauge is a center rear mount, 1.5 inch, liquid dampened with a 1/8 inch NPT fitting. I have to use a ¼ to 1/8 adaptor on the gauge. With the adaptor, the gauge is now too long to fit where I wanted to mount it. Second reason for changing the gauges placement, the factory boiler gauge is also 1.5 inch, but it has a nice flared collar around it. If my hole is slightly off, the flange will cover it.
I un-mounted the boiler gauge and put the pressure gauge in its place. I routed the new pressure gauge line and hooked it all up. I decided to power the machine up and pressure test my existing modifications. I used a blind basket and ran several cycles checking every fitting for any signs of leaks. Thankfully, I had no leaks, so now onto cutting the hole for the boiler gauge.
I marked my mount location with a felt tip marker and traced around the outside of the boiler gauge. Now I have my trace line and it is time to cut. Not having a 1.5 inch drill bit, I decided to drill a series of smaller holes just inside of my trace line. So I grabbed my hand drill and put a bit in the chuck. I take a deep breath, get my bit set and drill, and drill, drill, drill... Now here is my second problem. I spun the tips on three general purpose drill bits and do not have one hole. This stainless steel is HARD.
I head off to the hardware store and pick up a set of dedicated steel purposed cobalt drill bits. Now these little gems did a number on that Stainless. I drilled around the inside of my gauge trace. Make note of the wood backstop behind my drilling area. These drill bits are very shard and designed to cut hardened steel. A copper water line or boiler would not stand a chance against this thing. The back stop prevents me from drilling through a water line or into the boiler.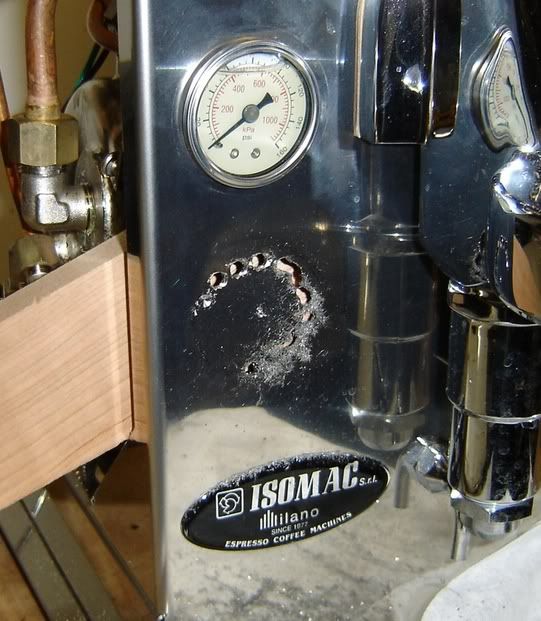 I used a carbide cutter bit in my rotary tool to connect the dots, now I have a rough cut hole.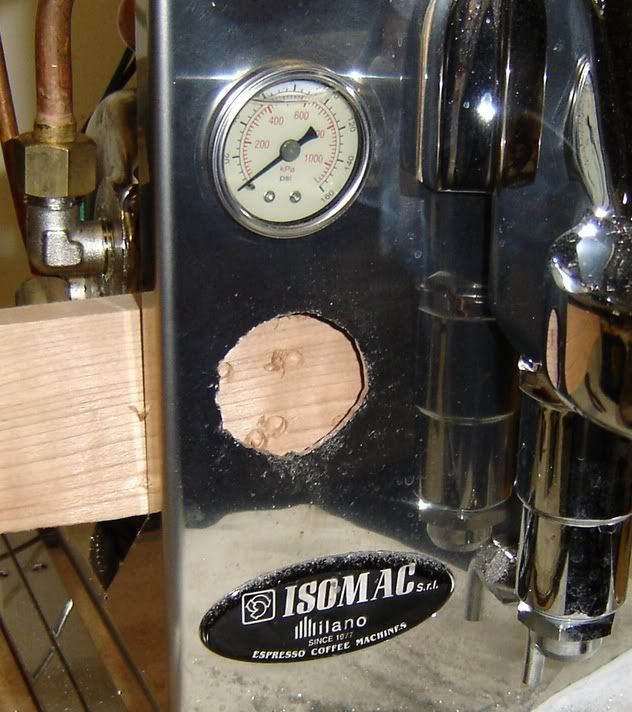 I used the cutter to round out more of the hole. Then I switched to a grinding stone. I smoothed out and shaped the hole. Once I had I my mount hole ground out and the gauge fitted, I switched to a sanding drum. I made my final shaping grinds and removed the burrs from the front and back of the mounting hole.

I mount my boiler pressure gauge in the new hole and string the pressure line to the boiler connection. Now I repeated my leak test. I also want to verify that the boiler gauge is working properly. Once again, no leaks and the gauges are all working correctly.


Now that my lines check out I go crazy with some insulation. I used foil backed adhesive foam pipe insulation. I insolated the boiler and heat exchanger preheat lines. I left my new T on the outside of the insulation to prevent excessive heat transfer to the new pressure gauge. I also insulate the thermosiphon lines, the hot water tap line and the steam lines.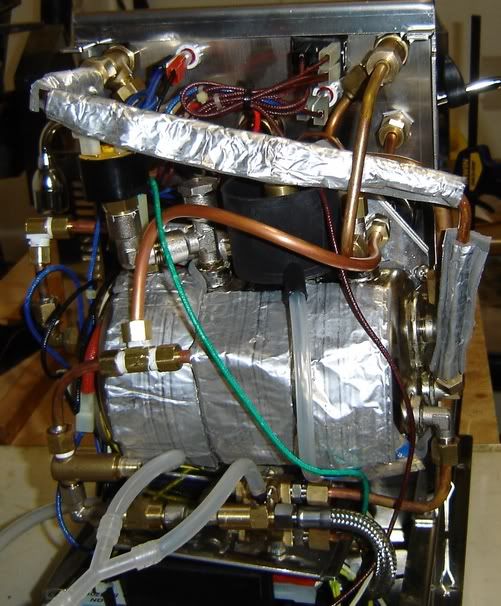 I carefully cleaned up the metal shavings, don't want to scratch the shiny stainless steel. Bring it back inside, hook up my water line and let it all heat for an hour. I have to say, my first shot after the mods was the best I have had from this machine, but that is another thread…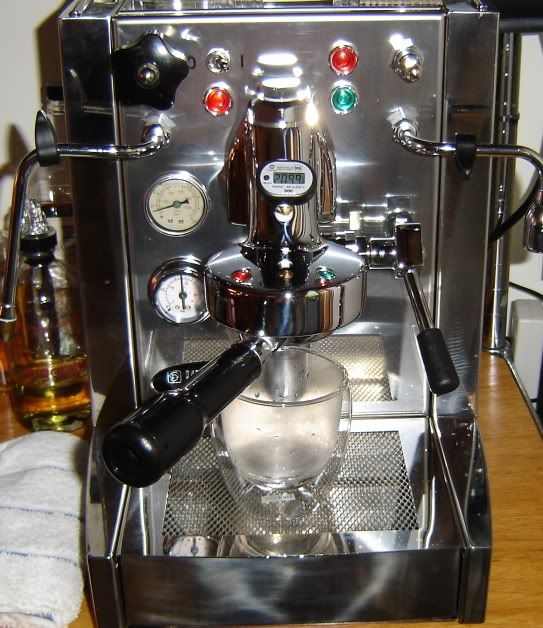 Finished Product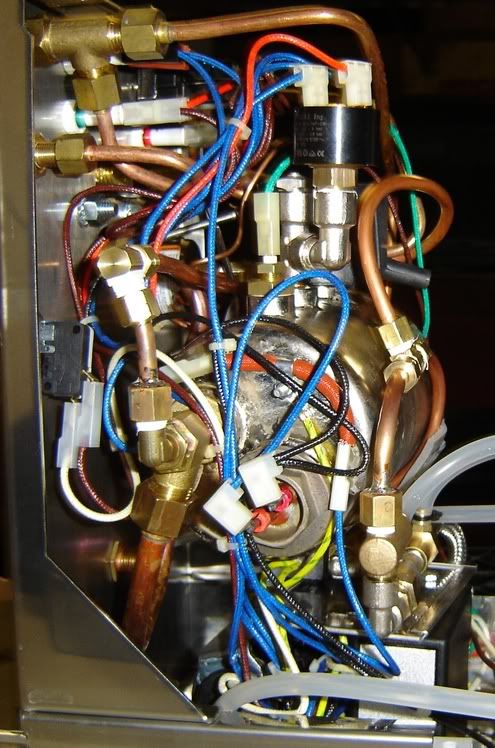 Right Side After Mod

Rear After Mod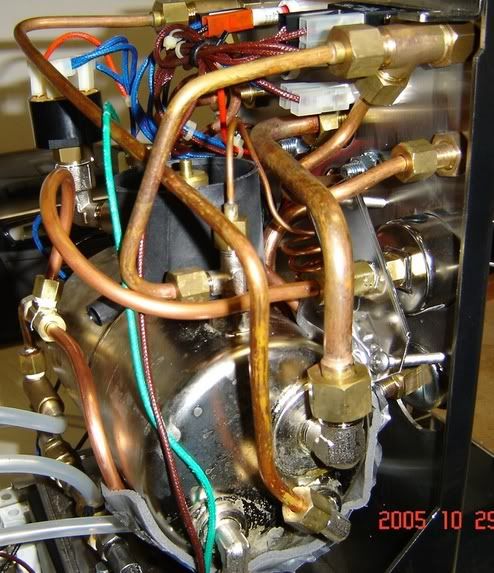 Left Side After Mod